Honolulu, HI – Sopogy, Inc. receives the Governor's Innovation Award presented by Hawaii Governor Linda Lingle at the Hawaii State Capitol. The Governor's Innovation Award recognizes organizations that seek to build and shape the future of Hawaii through innovation. Sopogy was chosen based on its dedication and commitment to leading Hawaii to a sustainable future, as well as for fostering innovation in others.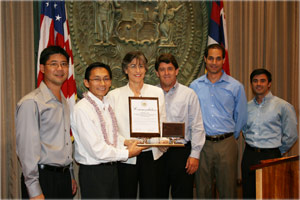 "Sopogy, Inc. has accomplished much to advance alternative energy, addressing the important needs of our state and its people" stated Governor Linda Lingle.
"The convergence of Renewable Energy and Innovation is an exciting area where the State of Hawaii has established a leadership position and Sopogy is proud to receive this honor" said Darren T. Kimura, President and CEO.