The Future's So Bright…
February 17, 2010
By Melissa Moniz
Starting out as a teenager with a 'crazy' idea, Darren Kimura now has three renewable energy companies
"Be the change you want to see in the world" – Mahatma Gandhi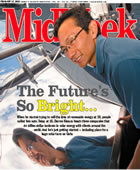 Darren T. Kimura "walks the talk" – and then some.
A visionary and innovator, at 35 years old Kimura is the founder of three of Hawaii's most prominent renewable energy companies: Energy Industries, Sopogy and Keahole Solar Power.
To date, his companies have saved Hawaii just short of $1 billion in energy costs, and have cut yearly oil imports by roughly 10,000 barrels of oil a year.
And he's just getting started.
"Our goal is to save Hawaii several billion dollars at some point," says Kimura, a born-and-raised Hilo boy. "In Hawaii, we're maybe 13 percent energy independent, and my mission is to move the needle to well over 50 percent (energy independent). We've got a lot of work to do, but I think we'll get there."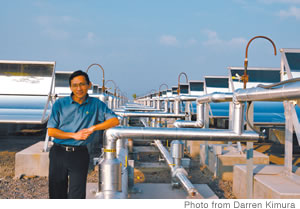 And he has the knowhow, drive, passion and experience to back it up.
It all began with a 19-year-old and a mission – to convince people that global warming was real, that energy was becoming expensive and something could be done about it. That was 1994 and the inception of his first company, Energy Conservation and Management Hawaii (ECMH), now called Energy Industries.
Energy Industries is an energy project developer that focuses on efficiency and renewable solutions to help large businesses with their energy problems. EI brings energy efficiency and renewable energy solutions to customers as a comprehensive offering.
"What that means is they will go into a large business and look at everything that uses energy and figure out ways to use less energy," says Kimura. "For example, changing the air conditioning or lighting systems. Through these retrofits the customer can reduce their bill up to 50 percent. So it's a very effective way for customers to save money.
"When I started Energy Industries, I was driving around in my car trying to convince people of this idea, and the response I got about 80-90 percent of the time was, 'You're nuts,'" says Kimura, a Waiakea High School grad. "People have called me crazy. But I believed in our work and kept at it, and over time business got better."
The company later expanded throughout the state, then to the West Coast, and today has offices in Seattle, Spokane, Portland, Boise, San Francisco and throughout Hawaii. Corporate clients include Boeing, Macy's and Starwood Hotels.
But this success only came after its fair share of usual entrepreneurial bumps and bruises, which Kimura says are necessary.
A college student at the time, Kimura skillfully juggled earning bachelor's degrees in business and engineering, while building his company.
"Starting at 19 years old was challenging," he admits. "I was irrelevant to the business community at 19. They saw a young kid with a crazy idea and poor timing. The lessons learned were valuable, and I soon figured out how to create value in the business and to tell my story better. This ultimately gave me the courage to branch out from Hawaii and expand our business globally."
Energy Industries'efforts to make saving energy simple have been recognized with awards such as Trade Ally of the Year 2005 (Hawaiian Electric) and Technology Company of the Year 2007 (Pacific Technology Foundation).
"Business is hard, and anyone who tells you starting and growing a business isn't hard is either lying or they're about to be severely disappointed," says Kimura. "Not one good entrepreneur I know says it's easy, particularly if you're starting from scratch. When you're in the start-up phase you will be tested almost daily. In my career I've wanted to give up so many times. but when you believe that what you're doing is more than making a check, that helps a lot."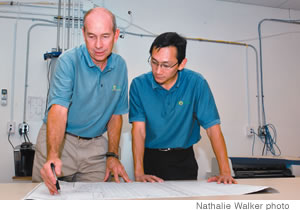 It took about eight years before Energy Industries took off, but when it did Kimura was already looking ahead, and in 2002 Sopogy was born.
"It was through Energy Industries that we found the need for a more energy-efficient solar technology that was more reliable than conventional photovoltaics (PV)," says Kimura
"Sopogy" is derived from the company's key words – solar power technology. It is a leader in MicroCSP technologies that bring the economics of proven large-scale concentrated solar power systems (CSP) to the distributed generation markets. MicroCSP technologies are used to create steam, solar air conditioning or electrical power. Sopogy is focused on bringing a new renewable energy technology to the market, using its solar energy systems (SopoNova, SopoFlare and SopoLite) to produce electricity.
"Basically we invented a panel (SopoNova), which uses mirrors to concentrate and intensify the energy of the sun," says Kimura. "The panels also follow the sun all day long, so as the sun moves through the sky, the mirror follows the sun. Our mirrors reflect sunlight into a pipe where we circulate a heat-transfer liquid. The liquid is used to create steam. Once we have steam, we can create electricity. In addition to the panel we invented the computer-based controls and software to operate the system."
The result is maximized energy production (two to three times more effective than static solar panels seen on home roofs) while minimizing costs.
The system also has energy storage, almost like a battery, except it isn't stored in electricity, it's stored in heat, making it a lot more efficient. This means more energy stored for a longer period of time with a very low cost.
"When you combine the solar collector and the storage, we have a solution that's very helpful to utilities and valuable to customers," says Kimura. "Our solar farms can offset one utility generator. The eventual goal is that we'll have so many of these solar farms out there allowing us to eliminate all fossil fuel generators. This will help Hawaii become more energy independent.
"We spend about $7 billion a year for oil. The oil comes in tankers mostly from foreign soil, and once we burn the oil we need more. So we continue to spend that $7 billion every year. The idea behind what we're trying to do is to keep some if not all of that $7 billion in the state through energy independence."
Check out Sopogy's list of accolades:Venture Capital Association Deal of the Year 2007, National Society of Professional Engineers New Product of the Year 2008, Innovation Company of the Year 2008 (Pacific Business News) and Gold Medal for Energy Product of the Year by Plant Engineering 2009.
"We've done all our research and development in Hawaii, and when we invented the technology it was built for Hawaii, but over the years we've realized that it has global market potential," says Kimura. "Today we have projects in the Middle East, Spain, India and throughout the U.S."
The need to build such projects turned into another business for Kimura in 2007: "Keahole Solar Power is the developer of large utility-grade projects," he adds. "Sopogy makes the panel, but Keahole Solar Power builds the renewable energy projects."
Its first groundbreaking project is Holaniku at Keahole Point, the world's first MicroCSP solar farm, located at the Natural Energy Laboratory in Kona.
The 2 megawatt thermal energy project, which spans 3.8 acres, utilizes 1,000 Sopogy proprietary MicroCSP solar panels (SopoNova). The farm produces 500 kilowatts of energy, enough to power roughly 200 homes. Holaniku feeds power directly into the HELCO grid and reduces the need to import more than 2,000 barrels of oil annually, and will reduce carbon emissions by an estimated 6,000 tons over 30 years.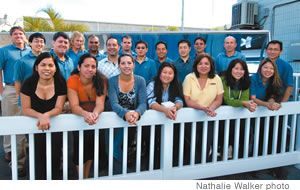 "Keahole Solar Power is looking to develop other projects through Hawaii, some even on Oahu," says Kimura. "Our next project is currently planned to be about 10 times the size of Holaniku."
Through his many companies, Kimura strives to take big bites out of global warming. But he also believes it needs to be done on a smaller scale.
Just last November, Sopogy introduced the SopoFlare, a scaled-down version of the SopoNova designed for either residential or light commercial use, and also the SopoLite, a pint-sized solar thermal energy collection unit that can provide 2 kilowatts of power or mobile water desalination capability. The unit can be trailer mounted and towed behind vehicles going into war or disaster zones. The U.S. Department of Defense and FEMA are expected to be among the first customers.
"It's really polarizing to see where the attitude of being 'green'is today compared to how it was when I first got started," says Kimura. "Today, it's hip to be green, I'm not complaining because it helps capture the public's attention. More importantly being green will always be the right thing to do, whether it's fad or not in fad.
"To me, the way you live your life has everything to do with the way you run your company. So we've always been extremely energy efficient. We've always had an energy-efficient home, consume organic foods, drive a hybrid vehicle, all the way down to the use of organic cleaners. I try to ride my bike to work when possible."
Kimura admits that his commitment to reduce global warming and Hawaii's dependence on foreign oil wasn't a childhood ambition.
"I think it was all my mom and dad's fault," says Kimura jokingly of the transition to an energy entrepreneur role. His parents owned an electrical contracting company in Hilo.
"From an early age they had me sweeping up project sites, wiring homes, helping with accounting and learning about the energy industry the hard way.
Working for the family business made me unemployable by others, as I needed to be constantly doing things my way, so it was obvious I needed to go into my own business.
"I also like to move quickly and see things happen. I think the problems that we have today require fast action. So, when you work for yourself, you have the ability to do that."
It's this steadfast attitude that has earned Kimura numerous awards and recognition, including Emerging Entrepreneur of the Year 2000 from Ernst and Young, Top 40 under Forty 2000 from Pacific Business News, SBA Young Entrepreneur of the Year 2002 for California, Hawaii and Arizona from the Small Business Administration, Technology Leader of the Year 2006 from the Technology Foundation, Green Entrepreneur of 2007 from Hawaii Business, and the Honua (Earth) Award for Clean Energy from the Blue Planet Foundation.
Through his outreach, Kimura has donated more than $100,000 to the energy improvements in dorm rooms, state facilities, classrooms for universities, public schools and nonprofits in Hawaii and throughout the U.S. and the Pacific.
"We now understand the damage that we've done to the world, and I think through that process it made me a lot more aware, too," he says. "Hurricane Katrina and recently Haiti have made me concerned that could happen here. We can no longer look the other way because it's happening all over the world."
Kimura continues on his mission to break down barriers, taking on the challenges of what he says are based on a lot of misinformation.
"People are saying it can't be done, that it's impossible, that it's not technically realistic – yet it is," says Kimura. "So problem No. 1 is realizing that we can get it done. It's going to take work and it's going to take a lot of smart people working on complicated challenges, but we can get there.
"I think other things that are involved here are policies that were put in place in the '50s – these are old policies. Those laws were made during a time when the problems we face today weren't yet big problems and the technologies to solve them didn't exist. Policies once in place are hard to change, so that's another big problem we have today. The reality is that the only future we have is through change."
Clocking in an average 90- to 100-hour work week, Kimura is an agent of change, which he says begins and ends with innovation. "Our companies are very innovative, and I think innovation is a term that we need to talk about more," he adds. "Innovation means changing the way things are today. Innovation does mean taking risks, which will sometimes lead to failure, but we need to celebrate the failure and the success."
Kimura laughs when asked if he has plans to start other businesses and quickly replies, "My hands are pretty full, but you never know."
Never count this guy out. It's his stay-ahead attitude that has built billion-dollar companies that more importantly have been influential in millions of dollars in energy savings.
"I think, for me, there's always going to be more to achieve, as I'm always looking for the imperfections or flaws," he adds. "We'll never get anything perfect, but life is about setting and resetting your goals."