Midweek featured the annual Technology Company of the Year awards as EI is awarded Tech Company of the Year 2007.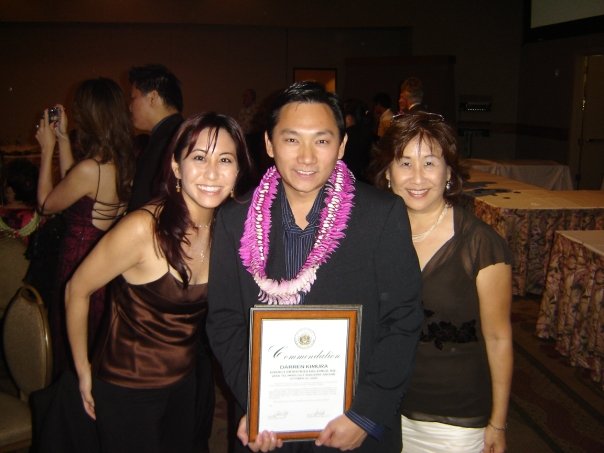 This can be a daunting task in a world so dependent on foreign oil sources. But with energy costs continuing to soar at an alarming rate, Kimura knows that now is the time for everyone to go green. Kimura has been ahead of his time in many ways, establishing Energy Industries at the age of 19 while on summer break from college. Fourteen years later, the energy solutions company is on the cutting edge of renewable energy research and engineering, with 12 offices and more than 100 employees in the U.S. and Philippines.
It is this dedication to innovation, leadership and growth that has earned Energy Industries this year's 2007 Tech Company of the Year Award by the Pacific Technology Foundation — a recognition Kimura refers to as a "massive win."
"We've been around for a long time and this award really shows how we've been able to grow and be dynamic and stay alive during times when the industry was bad," he says. "There are a lot of other companies that have come and gone over the years. Our team is willing and able to improvise and focus on what we're trying to do."
Strong focus has propelled Energy Industries past the years when people didn't "care about energy," says Kimura, who was born and raised in Hilo. "I started that company so young and it's difficult because a lot of people don't trust you because you're too young."
What he learned to deal with early on was rejection, he says. "Here I was preaching about global warming and efficiency and air pollution and people were saying, 'You're nuts, Kimura!' That first year, I worked out of the trunk of my car and I probably had an 80 percent failure rate. But I really liked the idea of doing something where I could solve a problem and not just something where I could make money."
Kimura, who got the inspiration to start Energy Industries from his father, a contractor, took the rejection of his early business years and turned into something he could build on.
"Ten years ago, people would waste air conditioning and leave their computers on at night," he explains. "It's a very different perspective and a very different type of consumer now."
Energy Industries, which has won multiple awards for its innovative approaches, has become Hawaii's one-stop shop for energy, helping businesses save money on their electric bills by conserving. "We offer more than 100 kinds of services," says Kimura, who studied business at the University of Hawaii at Manoa and electrical engineering at Portland State University. "We focus on being a full energy service provider. We will do the engineering, the installation and monitoring. No place else in Hawaii and virtually no place else in the world can offer a service like that."
To stay on top of the game, Kimura and his team go searching for the latest technology and bring it to Hawaii on a much quicker time table than normal. "We find out what people are doing, where the new innovations are, what works and what doesn't, and we try to bring that back to Hawaii first," he explains. "Where it would normally take 10 years to get here, we now bring the technology to the islands in two years."
This, he says is what has helped Hawaii take such massive strides forward in the realm of energy.
"A lot of times, because we're in Hawaii, we also have problems that no one else in the world has," says Kimura. "And our labs try to find solutions to these problems actively on-site in Hawaii. Otherwise, these problems would go unaddressed for years, decades, maybe even longer."
Kimura wants to be the best at everything he does. It is an intense desire that leaves him living a rather crazy work schedule. He is in the office by 3:30 a.m. and stays there until about 9 p.m. when he will go home, spend some time with his wife, Kelly, and their two children, go online until midnight, get a few hours of shut-eye and then it's back to the office again.
"When you do what I do and you have to talk to people in Israel, New York and California, then you have to swing over and talk to people in the Philippines and Japan, you really have to start your day early," says Kimura. "But being in Hawaii is great because here, you can do that all in one day."
Among his rather long list of accomplishments are multiple start-ups: in 1998 he created Pacific Energy Services; in 2000, eCONTROLS; in 2001, EnergySmart; in 2003, Lighting and Electrical Company; in 2004, Facility Solutions and in 2006, Sopogy, Inc.
Kimura's company, Energy Laboratories, serves as the think tank for ideas that have the potential to become new corporations. There are currently about 20 concepts in the lab. "We've probably incubated 30 to 40 ideas and only three or four have become actual companies."
His most recent venture, Sopogy, Inc., was an idea born out of Energy Laboratories, and one that has pioneered the technology able to bring concepts of Concentrated Solar Power (CSP) to Hawaii's market.
"Mirrors and optics track the sun during the day and we focus the beams to create hot steam and from that we can create electricity," explains Kimura.
CSP has been used reliably in the U.S. for more than 30 years, but Kimura's team has been able to shrink the technology down to a level that can be used effectively in Hawaii.
These revolutionary ideas are getting plenty of attention. In June, Sopogy, Inc. received approval for the issuance of $10 million in special purpose revenue bonds to assist with planning, designing, constructing, equipping and operating a solar farm power plant at the Natural Energy Laboratory of Hawaii Authority.
"This will be the first time in Hawaii that something solar-related this large has been done," says Kimura. "We hope to go online in July 2008."
Although competing in a global market from a small state like Hawaii can sometimes present obstacles for growth, Kimura says that, ultimately, Hawaii is the best place to advance the organization.
"Hawaii is very unique from an energy standpoint," he explains. "Every island has a very different energy situation. The grids are small and that's a problem we're always going to have. The population base is on Oahu and the land base is on the Big Island. It's rainy on Kauai and windy on Maui.
"It helps for us to be in a place like this because you can try to apply new concepts on a micro-level and study how they work. I've found that if something works well in Hawaii, then it will probably work well elsewhere. I look at Hawaii as being a great laboratory for energy research. That, above all else, has been one of the reasons we've stayed in Hawaii."
That, and a desire to give back to the community of which he is a part. Energy Industries continues to give back through donations of materials, services and, most importantly perhaps, through education.
"The biggest obstacle in getting the community and businesses to sign on with what we do is understanding," says Kimura. "A lot of people don't have the understanding of what's really going on. There is a lot of propaganda with regard to global warming and other issues involving energy costs and energy futures. Corporations need to spend some time investigating and have a willingness to be innovative.
"When ideas are a little too new, big business can become very bureaucratic and, as a result, things don't happen. But we have big problems that need real-time big answers. It's going to take a long time for us to get to where we need to be, but I'd like to see some of these big companies really embrace energy efficiency and renewable energy."
Kimura says that people are slowly starting to realize that "green equals green."
"If you do green things, you make money," he explains. "Utilities that have embraced green energy are making more money than they were using their polluting ways. If everyone gets smarter about energy, we all win."
Energy is a core issue that we will continue to have to address from now on, whether it's utilizing wave, wind or solar power, or reducing energy consumption through retrofitting lighting and air conditioning equipment, he maintains.
While Kimura's hope is to eventually be in every Fortune 500 company providing them with energy intelligence, he also takes care to educate the next generation of energy consumers, even his three-year-old daughter.
"Whenever she leaves the icebox open, I teach her about how the cold air goes out and how to create more cold air you have to use more energy," says Kimura.
But back to Kimura and his team, who are saving the world one kilowatt at a time — Kimura puts it into lay terms showing that for every kilowatt hour saved, carbon dioxide (CO2) entering the Earth's atmosphere is reduced by 1.55 pounds.
In 2006, the efforts of Energy Industries saved enough kilowatt hours to reduce more than 38,750,000 pounds of CO2. This savings also translated to other "green" effects equivalent to removing 3,804 cars from our roads, saving 2,011,903 gallons of gasoline, offsetting 40,876 barrels of oil, providing 2,256 households with electricity use for one year or replanting 450,685 tress for one year.
It's a battle that's far from over, but Kimura and Energy Industries is primed for the fight. He's ready to take on the big issues of global warming, energy security and sustainability — to find the best ways to save you money and save the world.