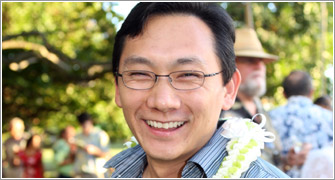 Darren T. Kimura is a technology executive with over 20 years of experience in 30 countries including such major geographies as the USA, Japan and India. His industry experience covers IT, energy efficiency, and solar technology.
Over his career, he built and sold multiple companies. He has been an inventor on 14 patents, acquired 65 patents and is regarded as a "founding father" of the MicroCSP solar industry. He has overseen the acquisition of over $2 billion in contracts, raised over $150 million in venture capital/private equity and over $300 million in project financing. He completed key start-up company with corporate strategic agreements and led key enterprise initiatives including: sale of company, IPO and mergers.
Originally from Hilo, Hawaii, Darren began his career in 1989 working at his family's electrical contracting business as an electrician, project manager and eventually Vice President. In these roles he worked on a variety of projects including the construction of the $377 million National Astronomical Observatory of Japan on Mauna Kea, the $200 million Subaru Astronomical Base Facility, State of Hawaii Schools telecommunication upgrades and energy efficiency upgrades at the State of Hawaii Airports.
In 1992 while working at the University of Hawaii's Information and Computer Sciences department he created Nalu Communications, an ISP and Network Services provider. Nalu was sold to a leading IT company in 1994.  He also worked in the EPA Energy Star program where he founded Energy Industries Corporation.  EIC has grown to become one of the Nation's largest Energy Efficiency Providers.
Companies
Nalu Communications, Internet Service Provider (Sold)
Energy Industries Corporation, Energy efficiency company
Pacific Energy Services, Electric utility consulting company (now part of EIC)
Solar Power Technology aka Sopogy, a concentrating solar power technology company (Sold)
Energy Smart News, Online energy education (Sold)

Keahole Solar Power, Renewable energy project developer (Sold)

Enerdigm Ventures, Venture Capital & Project Finance
LiveAction, a Software Defined Networking technology provider (Sold)
Blue Planet Energy, an energy storage technology company
Technologies Commercialized
Voltage regulation device
Digital programmable thermostat
Building Automation system
Lithium Ion Energy storage solution
Ozone for commercial laundry applications
Commercial Relationships
General Electric – Market Partnership
Hitachi – Technology partnership, Investment
Sylvania – Market Partnership
Cisco – Technology Certification, Cisco Global Price List, Investment, Strategic Technology Development, Investment
3M – Technology Partnership, Investment
Sempra Energy – Technology Partnership, Investment
Sony – Technology and Market Partnership
Chevron – Technology Partnership
Inventions
Awarded and pending patents in the following areas:
Use of identical components in solar energy collectors (7950387)
Use of brackets and rails in concentrating solar energy collectors (11811109)
Mirror assemblies for concentrating solar energy (11811329)
Support of heat collectors in solar energy collectors (11811153)
Parking solar energy collectors (12663704)
Solid core structure parabolic trough solar energy collection system (12854881)
Parabolic trough solar energy collection system (12907010)
Parking solar energy collectors from inclement weather (11811027)
Use of identical components in solar energy collectors (11811071)
Apparatus and methods for concentrating solar power (2007146183)
Concentrating solar trough and mobile solar collector (20010016934)
Components and solar energy collection system (2012094265)
Tracker control module (201303617)
Protecting solar energy collectors from inclement weather (20080078379)
In addition, Darren led the acquisition of 65 Patents from different organizations globally and completed licensing agreements with Universities and National Laboratories.
Distinctions
Darren's entrepreneurship accolades include Ernst and Young, Emerging Entrepreneur of the Year 2000, Pacific Business News Top 40 under Forty 2000, SBA Young Entrepreneur of the Year 2002 for California, Arizona and Hawaii, Hawaiian Electric Trade Ally of the Year 2006 from Hawaiian Electric, Technology Foundation's Technology Leader of the Year 2006, Green Entrepreneur of the Year 2007 from Hawaii Home and Remodeling magazine, Ten for Today in 2010 by Hawaii Business Magazine, The Honua (Earth) Award for Clean Energy by the Blue Planet Foundation, 2011 received the Patriot Award, 2013 Venture Capital Deal of the Year by the Hawaii Venture Capital Association.  He has also been listed as 10 to watch in 2013 by Pacific Business Magazine.
He studied computer sciences and business at the University of Hawaii studying Business, attended Portland State University where he studied electrical engineering and Stanford University where he studied computer science.
He is a licensed electrical contractor, Certified Fiber Optic Designer, Certified Energy Manager, Certified Demand Side Manager, Certified Distributed Energy Professional and Certified Sustainable Development Professional. Darren is also an Eagle Scout.
Over his career Darren led his companies to the following achievements:
Energy Conservation Hawaii – Winner, Service Firm of the Year 2002 (Small Business Administration)
Energy Industries – Winner, Trade Ally of the Year 2005 (Hawaiian Electric)
Energy Industries – Winner, Technology Company of the Year 2007 (Pacific Technology Foundation)
Energy Industries – Finalist, for Best in Business Division Year 2007 (Pacific Business News)
Sopogy – Finalist, for Venture Capital Deal of the Year 2006 (Hawaii Venture Capital Association)
Sopogy – Winner, of Venture Capital Association Deal of the Year 2007 (Hawaii Venture Capital Association)
Sopogy – Winner, of National Society of Professional Engineers New Product of the Year 2008 (NSPE)
Sopogy – Winner, of Innovation Company of the Year 2008 (Pacific Business News)
Sopogy – Winner, Innovation by an Organization Award 2008
Sopogy – Finalist, for Global Energy Awards 2008 (Platts)
Sopogy – Winner, Gold Medal for Energy Product of the Year by Plant Engineering 2009
Sopogy – Always on Global 250 2009, 2010, 2011
Sopogy – Always on Going Green 2009
Sopogy – Platts Sustainable Energy 2009
Sopogy – Winner, Hawaii Business Magazine Small Business Innovation Award 2010
Sopogy – Winner, Deal of the Year 2012 (Hawaii Venture Capital Association)
LiveAction – Red Herring Global 100 for 2014
Board and Advisory
Corporate
Community
University of Hawaii at Manoa's College of Engineering Dean's Council
He is a past Director at the Hawaii Strategic Development Corporation the State of Hawai's Venture Capital Fund, Boy Scouts of America Aloha Council, Councilor of the Hawaii Academy of Science, and Past President and Chairman at PLASMA an national energy services association.  He has served on the Hawaiian Electric Company Integrated Resource Plan and State of Hawaii Energy Management Advisory Committee. He also served on the 2010 Intersolar planning committee.
Corporate Transactions
He has completed corporate strategic engagements including joint ventures, licensing, distribution agreements and technology transfer with organizations in the US, Japan, Singapore, India, China, Thailand, Philippines, Latin America.
Cool Stuff
Through his energy expertise, Darren has spoken on behalf of the US Department of Energy and US Environmental Protection Agency in a number of unique regions that include Palau, Saipan, Marshall Islands, Commonwealth of the Northern Mariana Islands, and Guam. He has also spoken at Punahou School, Ritsumeikan (Japan), numerous industry events and non-profits (including Rebuild America, BOMA, Chamber of Commerce, Economic Development Board) sharing his knowledge of energy and entrepreneurship. He is also a regular speaker at Stanford University, and the University of Hawaii at Manoa.
Darren and his teams have designed some of the World's most innovative energy systems. These include ice air conditioning systems, hybrid TES/PV systems, district Ice Cooling/Heating systems, commercial fuel cell systems, advanced solar thermal systems, advanced photovoltaic technologies, smart metering, voltage regulation, ozone gas systems, digital programmable thermostats and efficient lighting technologies.
Influences
Reporter: "Why drove you to create these start-up companies?"
Darren: "I think it was my experiences as a Boy Scout.  As a Scout, we were always working on projects.  These start-ups begin as little projects that go on to become big projects. Eventually they take on a life of their own and I can get back to dreaming about the next little project."
Giving Back
Darren is an avid supporter in education helping Stanford University, and the University of Hawaii.  He has served as a judge and coach for the University of Hawaii Business Plan Competition, Hawaii High School Business Plan competition, Hawaii Pacific University Business Plan, and Chaminade non-profit business plan competition.  He has also been a judge for the Pacific Business News Business Leadership Hawaii awards. Through his outreach he has donated over $100,000 to the energy improvements of dorm rooms, state facilities, classrooms for Universities, Public Schools and Non-Profits across the US and Pacific. He is also a proud supporter of Happiness University.
Web Links
LA Times
Entrepreneur Magazine
Greater Good Radio
Honolulu Advertiser
CSP Today
Waiakea High School
Beyond Zero Emissions
Renewable Energy World
Tech Hui: Techie of the Month
GreenHawaii.com: Extraordinary Lectures
CSP Today: Shrinking CSP
Renewable Energy World
Greater Good TV
Big Island Video News
Red Herring
ABC
Midweek
Wall Street Journal
Boy Scouts
As a youth Darren was an active scout having graduated as a Cub Scout, earned his Arrow of Light, member of the Order of the Arrow, and Eagle Scout. He is also an active competitor in marathons, century cycle races, swim competitions and triathlons.
Places Lived
He has lived in Hilo, HI, Portland, OR; Seattle, WA; Palo Alto, CA; Singapore; and Honolulu, HI but still considers himself a "Hilo-boy".
Contact
Darren can be followed at: